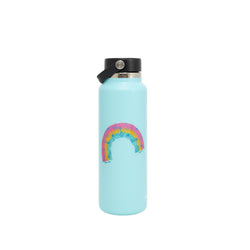 Jana Lam
Bargain Bin • Tiare Rainbow Sticker
All Bargain Bin items are Final Sale

As a part of our moving sale, we are cleaning out the depths of our storage closet. This blast from the past was imperfect, but still so fun! 
Known issues: "Jana Lam Hawaii" text at bottom of rainbow does not show!
Need to add a little pop of color to your every day? Our die cut Tiare Rainbow stickers will do just the trick.  I pretty much want to stick them on everything I see- my water bottle, notebooks, folders, and even my car (they are fade resistant in outdoor setttings).  Here in the studio it's an endless summer and our stickers are helping spread the sunshine. Grab a bunch and Lamify your life!
Sticker is roughly 3"x4"
Designed in Hawaii • Made in USA