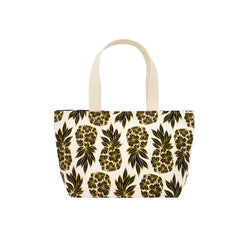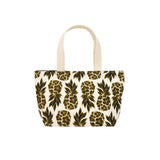 Jana Lam
Mini Beach Bag Tote • Seaflower Pineapple • Gold over Black on Natural Fabric
Jana Lam hand-printed Mini Beach Bag Totes are made with love and aloha at the Jana Lam Studio in the Kaka'ako neighborhood of Honolulu, Hawaii.
The Mini Beach Bag Tote, is just that, a mini version of our classic Beach Bag Tote.  But now we've added a magnetic closure to make sure all your things stay secure inside.  It's so cute, we hope you love swinging it around town!
The Details:
15" opening, 9" height, 10.75" x 4.5" base
Fully-lined, sewn in magnetic closure, 5" x 5" interior pocket, 1.25" wide reinforced webbing straps, 8" strap drop length
The model, Krista, is 5'6" and wearing a Mini Beach Tote.

Made in Hawaii, USA
Seaflower Pineapple. The story of this print, one of the most popular in the JANA LAM catalog, is a fun one. One day way back in 2016 Jana created a print specifically for a local boutique in Honolulu. The artwork, a series of leaves and stars, was ready to go; ready to be presented to the client, when Jana happened upon some artwork in photoshop on her computer. On the screen she saw the flowers of the Seaflower print, outlined by a pineapple. Turns out, the rest of the team wasn't as stoked on the leaves and stars as Jana was, and Megan came up with the idea of combining the two elements. Immediately Jana realized the potential of Megan's creation, and sat down to draw it freehand. Five minutes later, Seaflower Pineapple was complete, and the rest is history. The original pineapple print in the catalog (now discontinued) had taken probably some weeks to finalize. Jana had worked on so many different versions and finally settled on one after much thought and discussion. Some designs take a lot of work, and others just flow naturally. This one makes her smile because of all the prints it was definitely one of the easiest to make, and it was truly a team effort.
Fabric:
All Jana Lam Handmade in Hawaii textiles are silk-screened by hand on cotton fabrics with water-based inks. This piece is made from a 100% cotton slub weave fabric, and is reinforced with heavyweight interfacing to make the fabric sturdy and hold its shape.
Care:
The #janalamfam recommends spot cleaning when smaller spots show up. We usually use Shout Wipes for that, but Jana has used tide pens in the past. Make sure if there is a white top print to be a little more gentle on rubbing spots out. Since the ink sits on top of the fabric a bit more than other colors, there is a chance of the ink rubbing off and getting on other parts of the fabric.