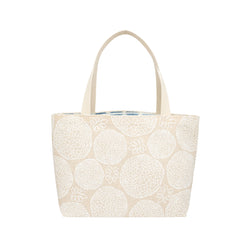 Jana Lam
Beach Bag Tote • Ulu • White Collection
Jana Lam hand-printed Beach Bags are made with love in the Jana Lam Studio in the Kaka'ako neighborhood of Honolulu, Hawaii.
The Beach Bag makes a great everyday carry all, shopping tote, beach tote, or work/school bag. Make a statement everywhere you go!
The Details: 
13.5" x 11.5" x 4.5" Fully-lined, 5" x 5" interior pocket, 1.25" wide reinforced webbing straps
Made in Hawaii, USA
'Ulu. Probably our most polarizing print.  If you have trypophobia (fear of dots) then 'Ulu might not be for you. On the other  hand, many people really love 'Ulu, not just because it's visually interesting, but because it's an important part of Hawaiian culture and Hawaiian food.  Whatever the case, for the obsessed artist, 'Ulu is a beautifully elaborate labyrinth of lines and points and it's one of Jana's favorites. By the way, she LOVES dots.  She actually has to stop herself from putting dots everywhere!
Fabric:
All Jana Lam Handmade in Hawaii textiles are silk-screened by hand on cotton fabrics with water-based inks. This piece is made from a 100% cotton loose weave fabric, and is reinforced with heavyweight interfacing to make the fabric sturdy and hold its shape.
Care:
The #janalamfam recommends spot cleaning when smaller spots show up. We usually use Shout Wipes for that, but Jana has used tide pens in the past. Make sure if there is a white top print to be a little more gentle on rubbing spots out. Since the ink sits on top of the fabric a bit more than other colors, there is a chance of the ink rubbing off and getting on other parts of the fabric.
But, you can put your Jana Lam's in the wash. We usually use a hand wash cycle and lay flat to dry. After it's dried, it is always good to give it a little bit of an iron. We use 100% cotton fabric, so it may shrink in the dryer, but will definitely stand up to ironing.