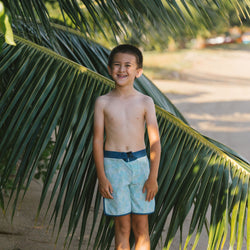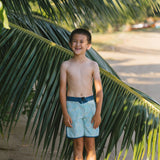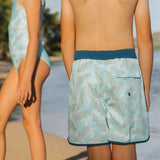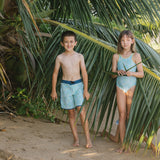 Izzy and Luke + Jana Lam
Banana Leaf Boardshorts • Izzy and Luke + Jana Lam
Our quest for an endless summer continues! 
We've wanted to make kids swimwear for oh so long, but have just never been able to complete the puzzle. Lo and behold, Izzy and Luke was the missing piece! Together we l created our first ever Keiki swim collection! Izzy and Luke x Jana Lam consists of two one piece swimsuits- Seaflower in magenta over blue papaya leaf, with a yellow background, and Banana Leaf in green over teal papaya leaves and a seafoam background. Each have matching microfiber towels and the Banana leaf has a matching pair of board shorts with navy piping vs. the suit's yellow piping. Cheers to the sun, the sea and the sound of little feet and laughter. 
The Details:
Available in sizes: 6-12 months, 12-18 months, 2T, 4T, 6T, and 8T
84% recycled polyester, 16% spandex
Repreve, eco-friendly fabric made from recycled bottles
Machine Washable
Designed in Hawai"i, USA

Banana Leaf. The Banana Leaf print is one of the most time honored prints in the Jana Lam Catalog. It is a symbol of love and aloha in her life. A proposal with a ring on a baby banana plant in San Francisco is what brought her back to Hawai'i, her home, and its endless summers. She drew the leaf, not only because she loves them, but because it represents a wonderful time in her life and the plant that brought so much joy to her and so many others. The babies of the original banana plant and its babies have spawned so many more banana plants that have been passed along amongst Jana's circle of friends. The banana leaf print is a beautiful reminder of all the good things, and it brings people together.