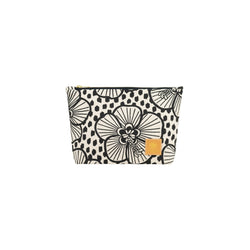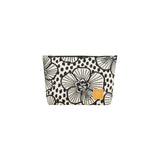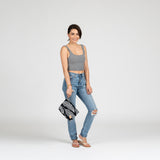 Jana Lam
Cosmetic Zipper Clutch • Hau • Black on Natural Fabric
Jana Lam hand-printed Cosmetic Zipper Clutches are made with love and aloha at the Jana Lam Studio in the Kaka'ako neighborhood of Honolulu, Hawaii.
The Cosmetic Clutch, though its name is utilitarian, is perfect for a night out. You can fit everything you need in this chic statement piece. It's also a great way to keep your makeup, diapers and wipes, or beach essentials together in a larger bag.
The Details:
11" x 7.5" x 2.5" Fully-lined, 9" brass zipper closure, 2.5" gusset Genuine leather logo patch
Made in Hawaii, USA
Hau. 
The Hau is an amazing flowering shrub tree that has always intrigued me.
It has scraggly crooked branches with heart-shaped green and white leaves with some solid in color and some spotty. It grows in a sort of horizontal fashion with its twisted, crooked branches intertwining to form a jungly mass.
It is such an intriguing botanical specimen as a whole, but it is the Hau's blooms that fascinate me the most. The Hau flower is a true hibiscus, but to me it's definitely not a typical one.
The blooms can get pretty large, and they make a beautiful canopy when they fall or are blown off their branches and litter the ground. In order to capture my interpretation of the Hau flower, I made a return to opaque pens as my drawing utensils. I wanted to make something bold and substantial, and with my skinny pencil I was just drawing everything too small. The size is reminiscent of our classic Seaflower print, which was also drawn with opaque pen, but it has its own unique look, and by adding my own version of a Cheetah-ish print, there is also a certain playfulness to it. It's fun and sweet and a little bit sassy at the same time.
Fabric:
All Jana Lam Handmade in Hawaii textiles are silk-screened by hand on cotton fabrics with water-based inks. This piece is made from a 100% cotton loose weave fabric, and is reinforced with heavyweight interfacing to make the fabric sturdy and hold its shape.
Care:
The #janalamfam recommends spot cleaning when smaller spots show up. We usually use Shout Wipes for that, but Jana has used tide pens in the past. Make sure if there is a white top print to be a little more gentle on rubbing spots out. Since the ink sits on top of the fabric a bit more than other colors, there is a chance of the ink rubbing off and getting on other parts of the fabric.
But, you can put your Jana Lam's in the wash. We usually use a hand wash cycle and lay flat to dry. After it's dried, it is always good to give it a little bit of an iron. We use 100% cotton fabric, so it may shrink in the dryer, but will definitely stand up to ironing.