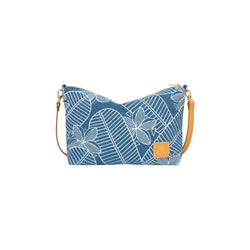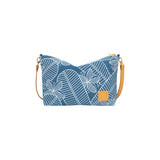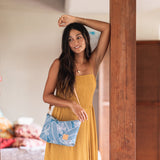 Jana Lam
Mini Slouchy Cross Body • Plumeria • Denim Collection
Jana Lam hand-printed Mini Slouchy Cross Bodies are made with love and aloha at the Jana Lam Studio in the Kaka'ako neighborhood of Honolulu, Hawaii.
Created for the ultimate bag lover, the Mini Slouchy Cross Body is an everyday classic piece for those of us with less to carry or a smaller frame. 
The Details:
12" x 7" x  3"
Fully-lined; 6" x 5" interior pocket; removable genuine leather cross body strap, adjustable from 42" to 49"
Made in Hawaii, USA
Plumeria. Plumerias are a staple in the life of any girl growing up in Hawaii. For Jana, in high school it was a daily ritual to perch a plumeria in your ear. Wearing one of the flowers was like wearing overalls, Roxy swimsuits or Rocket Dog platform slippers; it was almost an essential accessory to any outfit. But while the flower was the object of younger Jana's affection, as an adult it is the leaves that she finds more riveting. Why should the bloom get all the attention? If you are a leaf lover, if you love lines, if you think the blooms are auxiliary to their green counterpart, then Plumeria is for you.
Fabric:
All Jana Lam Handmade in Hawaii textiles are silk-screened by hand on cotton fabrics with water-based inks. This piece is made from a 100% cotton denim fabric, and is reinforced with fleece interfacing to give the fabric some shape with a soft feel.
Care:
The #janalamfam recommends spot cleaning when smaller spots show up. We usually use Shout Wipes for that, but Jana has used tide pens in the past. Make sure if there is a white top print to be a little more gentle on rubbing spots out. Since the ink sits on top of the fabric a bit more than other colors, there is a chance of the ink rubbing off and getting on other parts of the fabric.
But, you can put your Jana Lam's in the wash. We usually use a hand wash cycle and lay flat to dry. After it's dried, it is always good to give it a little bit of an iron. We use 100% cotton fabric, so it may shrink in the dryer, but will definitely stand up to ironing.