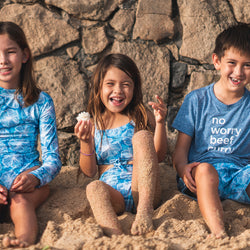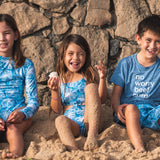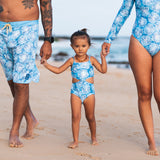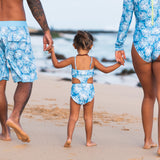 Izzy and Luke + Jana Lam
Blue Seaflower One Piece • Izzy and Luke + Jana Lam
Our quest for an endless summer continues! 
We've wanted to make kids swimwear for oh so long, but have just never been able to complete the puzzle. Lo and behold, Izzy and Luke was the missing piece! Together we l created our first ever Keiki swim collection! Izzy and Luke x Jana Lam consists of two one piece swimsuits- Seaflower in magenta over blue papaya leaf, with a yellow background, and Banana Leaf in green over teal papaya leaves and a seafoam background. Each have matching microfiber towels and the Banana leaf has a matching pair of board shorts with navy piping vs. the suit's yellow piping. Cheers to the sun, the sea and the sound of little feet and laughter. 
The Details:
Available in sizes: 6-12 months, 12-18 months, 2T, 4T, 6T, 8T, 10T, and 12T
All over print and fully lined.
84% recycled polyester, 16% spandex
Repreve, eco-friendly fabric made from recycled bottles
Machine Washable
Designed in Hawai"i, USA

Seaflower.  Seaflower is THE ORIGINAL Jana Lam print. Seaflower was the first print Jana made when she moved home to Hawai'i from San Francisco in 2010, which was the same year she started her company. It is the print from which everything began. In essence, Seaflower was her guinea pig while she figured out how to set up her own studio and screen print on her own. To make this design she used large opaque pens (opaque pens are notoriously leaky and hard to deal with and once you make a mistake there is no going back) and drew directly on a huge piece of tracing paper. Her aim was just to create a simple design that she could use to test out on her screens because she didn't want to have to deal with getting film made at that point. So she had to draw very large to cover the big piece of trace. The rather giant flowers of the current print have been reworked a bit but they were actually drawn at almost same size that they are now. So in essence, the print remains pretty similar to the original and is unlike almost all of the other prints in the catalog, which were drawn at a smaller scale and done in pencil and then traced over in Micron pen. Funny enough, even though she did a lot of research, drawing, and test-printing, it was never with the idea to make her own products out of the fabric. She didn't go into screen-printing with the intention to start a business. But she did, and Seaflower, which in the beginning was one of only a few prints (and the standout) that she used for her products, came to encapsulate and define the entire brand. Jana immediately realized that it was the strongest and most singular design of her small collection of prints, and so she used one of the flowers as her trademark and put it in her logo. And that in short, is why Seaflower is the classic, quintessential print of the brand, and still among the most popular designs, (if not the most popular design) in the entire catalog.