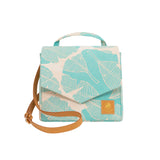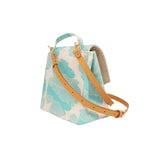 Jana Lam Hawaii
Midi Satchel • Banana Leaf • Sand over Offset Turquoise
What can be said about the Jana Lam Satchel? She's already an icon, an undeniable force of timeless style and incomparable cuteness that can't be taken lightly.  When you carry or wear the Jana Lam Satchel she will transport you to the next level of guggi goodness.  Some might be intimidated by the Satchel's undeniably fierce presence, but be not afraid, for she is as functional as she is fashionable.  Hold her by the handle or sling her across your chest with the leather strap and get ready to conquer the world!
Details:
9.5" x 9" x 4.75"
Fully-lined; magnetic snap closure; 4.5" x 3.5" interior pocket; removable genuine leather cross body strap, adjustable from 42" to 49"
Made in Hawai'i, USA
Banana Leaf. The Banana Leaf print is one of the most time honored prints in the Jana Lam Catalog. It is a symbol of love and aloha in her life. A proposal with a ring on a baby banana plant in San Francisco is what brought her back to Hawai'i, her home, and its endless summers. She drew the leaf, not only because she loves them, but because it represents a wonderful time in her life and the plant that brought so much joy to her and so many others. The babies of the original banana plant and its babies have spawned so many more banana plants that have been passed along amongst Jana's circle of friends. The banana leaf print is a beautiful reminder of all the good things, and it brings people together.