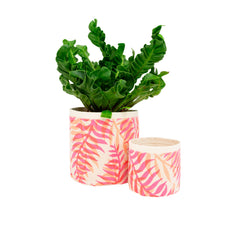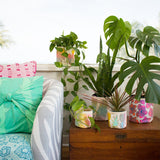 Sax by Jana Lam
Fabric Sax Plant Holder • Hot Pink and Neon Orange Double Palm
Plant Sax owner, Jessica Heiman, is a kindred spirit. We jive on a passion for textiles, mixing prints, and utilizing everything we can get our hands on. This collaboration was a no brainer, but also an amazing way to use some of the smaller cuts of fabrics stacking up as the Jana Lam line has evolved over the years. We are stoked to have found another way to bring brightness and joy into your homes, and further feed our own plant obsession! 
Due to the hand-printed and hand made nature of our products print placement might be slightly different than what is pictured. 
The Details:
Small: fits a standard 4" nursery pot, 4.5" height, comes with a plastic insert tray Medium: fits a standard 6" nursery pot, 7" height, comes with a plastic insert tray Large: fits standard 8-10" nursery pots, 10.75" height, comes with a plastic insert tray
Made in Hawaii, USA
Double Palm. Double the fun. What can I say? You take a simple print and flip it and print it again and you move from something classic, to something a little bit off kilter and fun. It's a fun design to experiment with colors, because they blend together in such a unique and playful way.
Fabric:
All Jana Lam Handmade in Hawaii textiles are silk-screened by hand on cotton fabrics with water-based inks. This piece is made from a 100% cotton twill fabric with a soft finish, and is reinforced with heavyweight canvas to make the fabric sturdy and hold its shape.
Sax Care:
Always use plastic tray provided to catch water drips and soil spills. Spot clean and air dry completely.