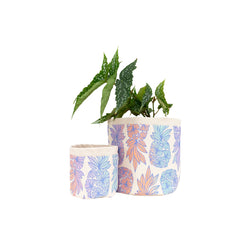 Sax by Jana Lam
Fabric Sax Plant • Seaflower Pineapple • Lilac, Aqua, and Orange Ombre
What was once a collaboration with a kindred business Sax Home Hawaii, our Sax Collection lives on despite Sax owner, Jessica Heiman closing her business. We always jived on a passion for textiles, mixing prints, and utilizing every piece of fabric we could get our hands on! And we're happy to continue to provide another way to bring brightness and joy into your homes, and further feed our own plant obsession.
Our fabric plant holders are screen-printed and sewn in Honolulu. Due to the hand-printed and hand made nature of our products print placement might be slightly different than what is pictured. 
The Details:
Small: fits a standard 4" nursery pot, 4.5" height, comes with a plastic insert tray Medium: fits a standard 6" nursery pot, 7" height, comes with a plastic insert tray Large: fits standard 8-10" nursery pots, 10.75" height, comes with a plastic insert tray
Made in Hawaii, USA
Seaflower Pineapple. The story of this print, one of the most popular in the JANA LAM catalog, is a fun one. One day way back in 2016 Jana created a print specifically for a local boutique in Honolulu. The artwork, a series of leaves and stars, was ready to go; ready to be presented to the client, when Jana happened upon some artwork in photoshop on her computer. On the screen she saw the flowers of the Seaflower print, outlined by a pineapple. Turns out, the rest of the team wasn't as stoked on the leaves and stars as Jana was, and Megan came up with the idea of combining the two elements. Immediately Jana realized the potential of Megan's creation, and sat down to draw it freehand. Five minutes later, Seaflower Pineapple was complete, and the rest is history. The original pineapple print in the catalog (now discontinued) had taken probably some weeks to finalize. Jana had worked on so many different versions and finally settled on one after much thought and discussion. Some designs take a lot of work, and others just flow naturally. This one makes her smile because of all the prints it was definitely one of the easiest to make, and it was truly a team effort.
Fabric:
All Jana Lam Handmade in Hawaii textiles are silk-screened by hand on cotton fabrics with water-based inks. This piece is made from a 100% cotton twill fabric with a soft finish, and is reinforced with heavyweight canvas to make the fabric sturdy and hold its shape.
Sax Care:
Always use plastic tray provided to catch water drips and soil spills. Spot clean and air dry completely.