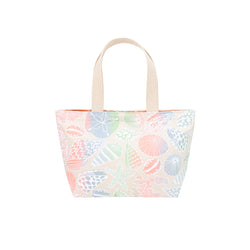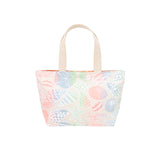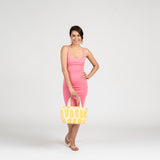 Jana Lam
Mini Beach Bag Tote • Seashells • White over Peach, Green, and Blue Ombre
Jana Lam hand-printed Mini Beach Bag Totes are made with love and aloha at the Jana Lam Studio in the Kaka'ako neighborhood of Honolulu, Hawaii.
The Mini Beach Bag Tote, is just that, a mini version of our classic Beach Bag Tote.  But now we've added a magnetic closure to make sure all your things stay secure inside.  It's so cute, we hope you love swinging it around town!
The Details:
15" opening, 9" height, 10.75" x 4.5" base
Fully-lined, sewn in magnetic closure, 5" x 5" interior pocket, 1.25" wide reinforced webbing straps, 8" strap drop length
The model, Krista, is 5'6" and wearing a Mini Beach Bag Tote.

Made in Hawaii, USA
Seashells. Every so often certain designs will start to make Jana antsy. Shellini is one such design. For years she wanted to change it up and put an editing hand to it. Finally she set her mind to it, but instead of editing it as she intended, she completely redid it and so the resulting print is a fully reimagined version of Shellini. Interestingly enough, Seashell is probably the most true to life of all the Jana Lam prints except for 'Ae which was drawn purposefully to look just like the actual fern. For this design, Jana drew a few shells from actual photos, and for others she combined parts and pieces here and there from different shells and put them together, and sometimes she made them up altogether. Jana will always be fond of this print because when she was tracing all the shells that make up this print (and there were more, it's actually been edited down, with shells taken out, she was totally in the zone and only goofed up and used white-out a couple of times. She's really proud of the precise and detailed nature of this new print.
Fabric:
All Jana Lam Handmade in Hawaii textiles are silk-screened by hand on cotton fabrics with water-based inks. This piece is made from a 100% cotton slub weave fabric, and is reinforced with heavyweight interfacing to make the fabric sturdy and hold its shape.
Care:
The #janalamfam recommends spot cleaning when smaller spots show up. We usually use Shout Wipes for that, but Jana has used tide pens in the past. Make sure if there is a white top print to be a little more gentle on rubbing spots out. Since the ink sits on top of the fabric a bit more than other colors, there is a chance of the ink rubbing off and getting on other parts of the fabric.