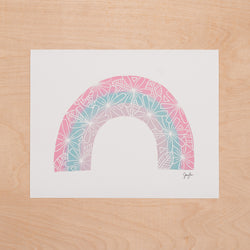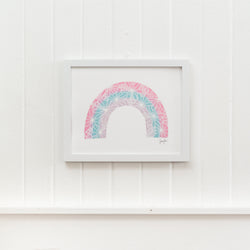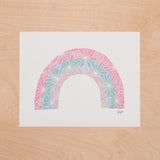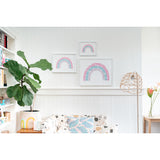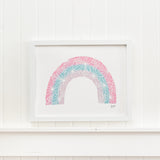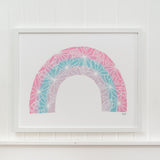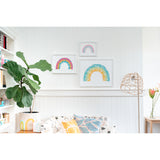 Jana Lam
Tiare Rainbow Art Print • Pastel Berry Rainbow
It may taken us a hot second, but we are so excited that the Tiare Rainbows are back, and this time instead of carrying them on your shoulder as a slouchy crossbody bag they have been reimagined (as we believe they were meant to be)…art prints.  At Jana Lam it's our aim to bring a smile to your face and sunshine and rainbows to your life.  So here we are, creating actual literal versions that can be hung in your home to bring positive vibes and brightness to your day, every day. Whatever size you need, we've got you covered.  Maybe you need a large piece to light up your life in a big way.  If so, the 16x20 is for you.  Maybe the classic size, 11x14, in the perfect spot could serve as the perfect reminder to turn up, look up and breathe easy.  Or maybe you just need a small piece, the 8x10, to catch your eye now again, or all three of the littles together to create a happy, enduring triptych.  For our very first collection we tried to give you fun little sampling of colors: a take on the classic rainbow (with the blue overlay), a sweet pastel berry version, and for those of you who love the cooler end of the spectrum, an easy peasy Seabreeze. This is our first ever art collection, and we can't wait to see the spaces they help you create!
Details:
Giclée Print on Cold Press Textured Paper
Available in 8"x10", 11"x14", and 16"x20"
Made in Hawaii, USA
Tiare Rainbow. We are in the business of making rainbows, every day. With our water-based inks we screen print an infinite array of colors and the combinations are endless. But until the summer of 2018 we had never made actual rainbows in the shape of rainbows. I'm not sure how the idea came to be. Perhaps the popularity of the rainbow as an object or design element was on the rise at the time, as the pineapple had been before that. Whatever the case, we jumped on the bandwagon and decided to make our version of the eternally popular rainbow. Of course we couldn't just put pretty hues together and leave it at that, we had to add the JL to it…but what? Over the years I have gotten a lot of different requests or suggestions for specific nature-related or floral prints; one being the delightful, simple, sweet-smelling Tiare. As I sketched it out out, I realized if I stylized it in an angular, sharp-edged fashion it would complement the shape of the bow and the sweetly melting colors. Then I added a bunch of my favorite shape, the triangle, to give it that extra dynamism. The result, a funky, floral rainbow. What could be more JL than that?