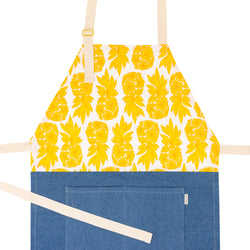 Jana Lam
Apron • Seaflower Pineapple • Gold over Yellow
Jana Lam hand-printed Aprons  are made with love and aloha at the Jana Lam Studio in the Kaka'ako neighborhood of Honolulu, Hawaii.
Maybe the most utilitarian of fashion statements, the apron is a wonderful thing- whether you are a domestic goddess, tending bar, or hand printing fabric! Our cute clothes covers are chic and unique with the party (print) on the top and business (denim) on the bottom.  Plus they have two wide pockets in the front to carry whatever you may need on hand.  Sturdy but still lovely webbing straps complete the look and finish off our crisp and colorful smock delights.
The Details:
27.5" Apron Height, 19" Skirt Width, Adjustable Neck Loop
Hand-printed Linen/Cotton Blend Bib, 100% Cotton Denim Skirt
Made in Hawaii, USA
Seaflower Pineapple. The story of this print, one of the most popular in the JANA LAM catalog, is a fun one. One day way back in 2016 Jana created a print specifically for a local boutique in Honolulu. The artwork, a series of leaves and stars, was ready to go; ready to be presented to the client, when Jana happened upon some artwork in photoshop on her computer. On the screen she saw the flowers of the Seaflower print, outlined by a pineapple. Turns out, the rest of the team wasn't as stoked on the leaves and stars as Jana was, and Megan came up with the idea of combining the two elements. Immediately Jana realized the potential of Megan's creation, and sat down to draw it freehand. Five minutes later, Seaflower Pineapple was complete, and the rest is history. The original pineapple print in the catalog (now discontinued) had taken probably some weeks to finalize. Jana had worked on so many different versions and finally settled on one after much thought and discussion. Some designs take a lot of work, and others just flow naturally. This one makes her smile because of all the prints it was definitely one of the easiest to make, and it was truly a team effort.
Fabric:
All Jana Lam Handmade in Hawaii textiles are silk-screened by hand on cotton fabrics with water-based inks. This piece is made from a 100% natural Cotton/Linen blend.
Care:
Machine wash gentle. Do not bleach. Iron as needed.