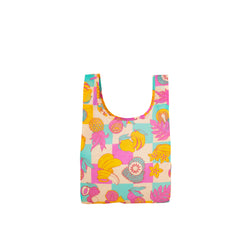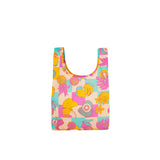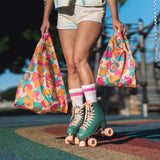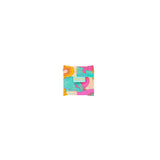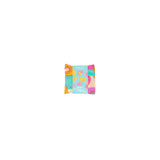 Baggu + Jana Lam
Baby Baggu Reusable Bag • Fruit Stand • Jana Lam Hawaii + Baggu
This is the smaller version of the Classic Reusable Baggu.  Carry it like a purse with all your essentials, or use it as a lunch bag for your delectable snacks and utensils. Also, it's perfect for your six-pack, but you didn't hear that from me. It may be the baby of the bunch but it still holds 50 lbs. 
Details:
18" × 10" × 4"
Folds into a flat 4" × 4" pouch.  
Designed in Hawaii, USA
Fruit Stand. It's a tutti fruity dance party! It's full of tropical goodies galore with an 80's type vibe in a checkerboard paradise. You don't necessarily have to love the taste of these fruits to appreciate the fun shapes and textures they take on. Each one- the mango, the apple banana, the guava, the 'ulu, the lychee, lilikoi, star fruit, sour sop and pineapple are all icons of the Hawaiian landscape and they fill our lives with sweetness, fun and beauty. Fruit Stand is the ultimate celebration of that!
Fabric:
Made of 100% ripstop nylon (40% recycled nylon sourced from pre-consumer waste).

Care:
Machine wash cold, line dry.