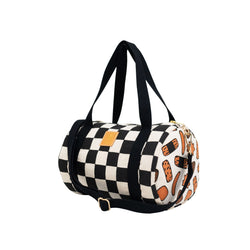 Jana Lam
City Duffel • Kakimochi Kosmos
This is the one. This is the one with the rizz Yes, it's so good it can only be described using a word my kids basically taught me. No cap, the City Duffel hits different, it's so drip. Ok enough with the Gen Zisms, because really this bag is for everyone, my momma, your momma, my seven year old, your whateveryearold, and me/you. It's a daily bag you're going to want to carry at night because it gives you all the feels and just makes you so happy. We did it up and made them all with two prints, so they're extra and extra amazing. They were made with love and it is love. !

Details:
11.5" l x 7" dia.
9" zipper opening
Shoulder Strap measures 7.5" from shoulder to top of bag. Adjustable cross body Strap measures 28" to 50" fully extended. Fully lined with a 4.5" x 4.5" interior pocket.

Made in Hawaii, USA
Checkerboard.
All of us here at Jana Lam have been in love with Checkerboard for quite awhile. So when we decided to make the Half Moon print, we thought why not just go for it and make a checkerboard too, to use as a background.
But of course it's so classic that it can stand on its own. 
It's been quite a trend, but I think it will never go out of style.
Fabric: 
All Jana Lam Handmade in Hawai'i textiles are silk-screened by hand on cotton fabrics with water-based inks. This piece is made from 100% cotton fabric that is reinforced with interfacing to give the fabric some shape with a soft feel.
Care:
The #janalamfam recommends spot cleaning when smaller spots show up. We usually use Shout Wipes for that, but Jana has used tide pens in the past. Make sure if there is a white top print to be a little more gentle on rubbing spots out. Since the ink sits on top of the fabric a bit more than other colors, there is a chance of the ink rubbing off and getting on other parts of the fabric. 
But, you can put your Jana Lam's in the wash. We usually use a hand wash cycle and lay flat to dry. After it's dried, it is always good to give it a little bit of an iron. We use 100% cotton fabric, so it may shrink in the dryer, but will definitely stand up to ironing.