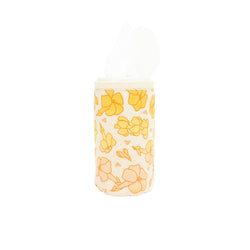 Sax by Jana Lam
Clorox Wipes Sax Cover • Puakenikeni • Apricot Sunshine
What was once a collaboration with a kindred business Sax Home Hawaii, our Sax Collection lives on despite Sax owner, Jessica Heiman closing her business. We always jived on a passion for textiles, mixing prints, and utilizing every piece of fabric we could get our hands on! And we're happy to continue to provide another way to bring brightness and joy into your homes, and further feed our own plant obsession.
​These Sax are cut to perfectly fit a large container of Clorox wipes or alternate brand (1 lb 4.5 oz, or 78 wipes package size). This allows you to keep them out in the open without being distracted by wordy labels and contrasting colors. These are great for other purposes beyond the wipes as well; cover a bottle or hold your zero waste cloths.

Due to the hand-printed and hand made nature of our products print placement might be slightly different than what is pictured. 
The Details:
4.5" diameter, 9" tall

Made in Hawaii, USA
Puakenikeni. A popular flower that I've been hesitant to draw and make a print because I feel like it's been done a lot. But something about it is just so appealing! I lived in Kaimukī last year and on my runs I would pass by the trees and always stop to take photos of the blooms. And then an uncle started bringing Puakenikeni to keiki hula practice on Sunday mornings, and I would watch with happiness as he strung each one. So I caved, and I'm glad I did because Puakenikeni is already one of my favorites and I think it will be for many other people too. 
Fabric: All Jana Lam Handmade in Hawaii textiles are silk-screened by hand on cotton fabrics with water-based inks. All Sax + Jana Lam products are reinforced with a 100% cotton heavyweight canvas.
Care: Spot clean or machine wash cold on gentle and air dry.