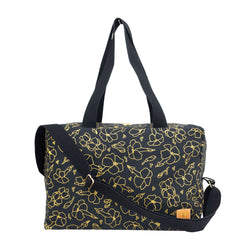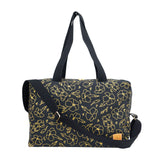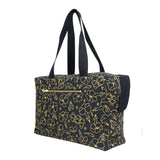 Jana Lam
Duffel • Puakenikeni • Gold on Black Fabric
The Jana Lam Duffel: your quintessential do everything piece; It's a roomy work tote, a work out bag, and of course the perfect travel accoutrement for all your fantastic adventures. It was created by Steph Kaji, our master of all that is beautifully formed and super functional and it's a dream come true for your next dream come true destination. 
Details:
16.5" l x 11" h x 5.5" d
Shoulder Strap measures 12" from shoulder to top of bag. Adjustable cross body Strap measures 28" to 53" fully extended. Fully lined with a double interior pocket. Exterior pocket features a strong elastic pass through for luggage handle.

Made in Hawaii, USA
Puakenikeni. A popular flower that I've been hesitant to draw and make a print because I feel like it's been done a lot. But something about it is just so appealing! I lived in Kaimukī last year and on my runs I would pass by the trees and always stop to take photos of the blooms. And then an uncle started bringing Puakenikeni to keiki hula practice on Sunday mornings, and I would watch with happiness as he strung each one. So I caved, and I'm glad I did because Puakenikeni is already one of my favorites and I think it will be for many other people too.