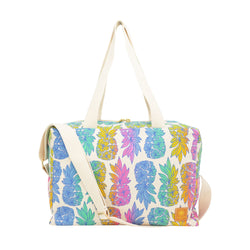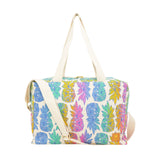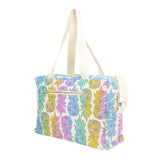 Jana Lam
Duffel • Seaflower Pineapple • Blue over Rainbow Ombre
The Jana Lam Duffel: your quintessential do everything piece; It's a roomy work tote, a work out bag, and of course the perfect travel accoutrement for all your fantastic adventures. It was created by Steph Kaji, our master of all that is beautifully formed and super functional and it's a dream come true for your next dream come true destination. 
Details:
16.5" l x 11" h x 5.5" d
Shoulder Strap measures 12" from shoulder to top of bag. Adjustable cross body Strap measures 28" to 53" fully extended. Fully lined with a double interior pocket. Exterior pocket features a strong elastic pass through for luggage handle.

Made in Hawaii, USA
Seaflower Pineapple. The story of this print, one of the most popular in the JANA LAM catalog, is a fun one. One day way back in 2016 Jana created a print specifically for a local boutique in Honolulu. The artwork, a series of leaves and stars, was ready to go; ready to be presented to the client, when Jana happened upon some artwork in photoshop on her computer. On the screen she saw the flowers of the Seaflower print, outlined by a pineapple. Turns out, the rest of the team wasn't as stoked on the leaves and stars as Jana was, and Megan came up with the idea of combining the two elements. Immediately Jana realized the potential of Megan's creation, and sat down to draw it freehand. Five minutes later, Seaflower Pineapple was complete, and the rest is history. The original pineapple print in the catalog (now discontinued) had taken probably some weeks to finalize. Jana had worked on so many different versions and finally settled on one after much thought and discussion. Some designs take a lot of work, and others just flow naturally. This one makes her smile because of all the prints it was definitely one of the easiest to make, and it was truly a team effort.