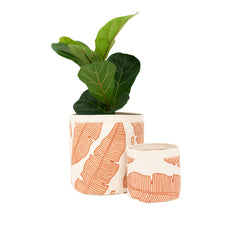 Sax by Jana Lam
Fabric Plant Sax • Sienna Banana Leaf
What was once a collaboration with a kindred business Sax Home Hawaii, our Sax Collection lives on despite Sax owner, Jessica Heiman closing her business. We always jived on a passion for textiles, mixing prints, and utilizing every piece of fabric we could get our hands on! And we're happy to continue to provide another way to bring brightness and joy into your homes, and further feed our own plant obsession.
Our fabric plant holders are screen-printed and sewn in Honolulu. Due to the hand-printed and hand made nature of our products print placement might be slightly different than what is pictured. 
The Details:
Small: fits a standard 4" nursery pot, 4.5" height, comes with a plastic insert tray Medium: fits a standard 6" nursery pot, 7" height, comes with a plastic insert tray Large: fits standard 8-10" nursery pots, 10.75" height, comes with a plastic insert tray
Made in Hawaii, USA
Banana Leaf. The Banana Leaf print is one of the most time honored prints in the Jana Lam Catalog. It is a symbol of love and aloha in her life. A proposal with a ring on a baby banana plant in San Francisco is what brought her back to Hawai'i, her home, and its endless summers. She drew the leaf, not only because she loves them, but because it represents a wonderful time in her life and the plant that brought so much joy to her and so many others. The babies of the original banana plant and its babies have spawned so many more banana plants that have been passed along amongst Jana's circle of friends. The banana leaf print is a beautiful reminder of all the good things, and it brings people together.
Fabric:
All Jana Lam Handmade in Hawaii textiles are silk-screened by hand on cotton fabrics with water-based inks. This piece is made from a 100% cotton twill fabric with a soft finish, and is reinforced with heavyweight canvas to make the fabric sturdy and hold its shape.
Sax Care:
Always use plastic tray provided to catch water drips and soil spills. Spot clean and air dry completely.