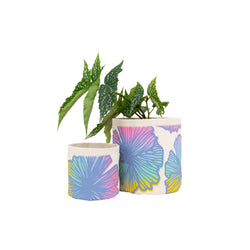 Sax by Jana Lam
Fabric Sax Plant • Seaflower • Indigo and Rainbow Ombre
What was once a collaboration with a kindred business Sax Home Hawaii, our Sax Collection lives on despite Sax owner, Jessica Heiman closing her business. We always jived on a passion for textiles, mixing prints, and utilizing every piece of fabric we could get our hands on! And we're happy to continue to provide another way to bring brightness and joy into your homes, and further feed our own plant obsession.
Our fabric plant holders are screen-printed and sewn in Honolulu. Due to the hand-printed and hand made nature of our products print placement might be slightly different than what is pictured. 
The Details:
Small: fits a standard 4" nursery pot, 4.5" height, comes with a plastic insert tray Medium: fits a standard 6" nursery pot, 7" height, comes with a plastic insert tray Large: fits standard 8-10" nursery pots, 10.75" height, comes with a plastic insert tray
Made in Hawaii, USA
Seaflower.  Seaflower is THE ORIGINAL Jana Lam print. Seaflower was the first print Jana made when she moved home to Hawai'i from San Francisco in 2010, which was the same year she started her company. It is the print from which everything began. In essence, Seaflower was her guinea pig while she figured out how to set up her own studio and screen print on her own. To make this design she used large opaque pens (opaque pens are notoriously leaky and hard to deal with and once you make a mistake there is no going back) and drew directly on a huge piece of tracing paper. Her aim was just to create a simple design that she could use to test out on her screens because she didn't want to have to deal with getting film made at that point. So she had to draw very large to cover the big piece of trace. The rather giant flowers of the current print have been reworked a bit but they were actually drawn at almost same size that they are now. So in essence, the print remains pretty similar to the original and is unlike almost all of the other prints in the catalog, which were drawn at a smaller scale and done in pencil and then traced over in Micron pen. Funny enough, even though she did a lot of research, drawing, and test-printing, it was never with the idea to make her own products out of the fabric. She didn't go into screen-printing with the intention to start a business. But she did, and Seaflower, which in the beginning was one of only a few prints (and the standout) that she used for her products, came to encapsulate and define the entire brand. Jana immediately realized that it was the strongest and most singular design of her small collection of prints, and so she used one of the flowers as her trademark and put it in her logo. And that in short, is why Seaflower is the classic, quintessential print of the brand, and still among the most popular designs, (if not the most popular design) in the entire catalog.
Fabric:
All Jana Lam Handmade in Hawaii textiles are silk-screened by hand on cotton fabrics with water-based inks. This piece is made from a 100% cotton twill fabric with a soft finish, and is reinforced with heavyweight canvas to make the fabric sturdy and hold its shape.
Sax Care:
Always use plastic tray provided to catch water drips and soil spills. Spot clean and air dry completely.