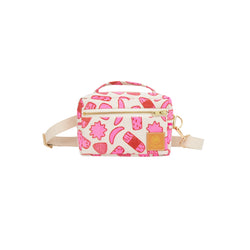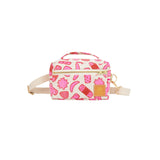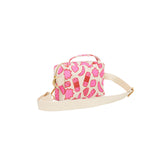 Jana Lam
Fanny • Kakimochi • Pink
A pair of golden shears (scissors), an amazing shelving or storage unit, a sleeper sofa that is plush yet modern and easy to handle…all are utilitarian yet beautiful. As is the incomparable Fanny (pack/crossover sling), created by the incomparable Steph Kaji. It's as pretty as it is useful. It's compact and cute but it will carry the things you need, for reals. When you're traveling, or just on the go go go it's the perfect piece to have slung or hung to you. It's even got pockets (are pockets not the best part of life?) to keep the necessities right where you need them. I ❤️ Fanny. 
Details:
7" width x 4.75" height x 2.5" depth
Features full width front zipper pocket, and 12" top compartment zipper opening
Waist/chest strap with clasp and ring closure measures from 33" to 52" (includes bag width)
Made in Honolulu, Hawai'i, USA
Kakimochi.
The idea of this print has its seeds in the artwork we did for Foodland's 75th anniversary. These little crackers then got included in our Mixed Plate print and Erin suggested we make it its own thing.
At first I laughed and said really?!?! But then after only a few moments thought, I realized that Kakimochi on its own was genius.
So thank you so much Erin, for knowing how great this would be.
It's an epic design that will make people smile for years to come.
Fabric: 
All Jana Lam Handmade in Hawai'i textiles are silk-screened by hand on cotton fabrics with water-based inks. This piece is made from 100% cotton fabric that is reinforced with interfacing to give the fabric some shape with a soft feel.
Care:
The #janalamfam recommends spot cleaning when smaller spots show up. We usually use Shout Wipes for that, but Jana has used tide pens in the past. Make sure if there is a white top print to be a little more gentle on rubbing spots out. Since the ink sits on top of the fabric a bit more than other colors, there is a chance of the ink rubbing off and getting on other parts of the fabric. 
But, you can put your Jana Lam's in the wash. We usually use a hand wash cycle and lay flat to dry. After it's dried, it is always good to give it a little bit of an iron. We use 100% cotton fabric, so it may shrink in the dryer, but will definitely stand up to ironing.