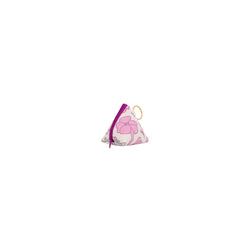 Jana Lam Hawaii
Musubi Pouch • Puakenikeni • Mint Berry
At the Jana Lam Studio we're always making things— of course, that's what we do!  But it's so exciting to be able to use the leftover fabric that would normally be cast aside.  These onigiri-shaped pouches are products made from just that, and concocted from the mind of our amazing Steph Kaji, who took awkwardly shaped pieces and turned them into triangular fabulousness. Form and function are key in these little pouches, and each one has a key ring, so you can hang them in a convenient place, where it's on hand for easy access- coins, cash, keys, lip gloss, air pods, parking tickets…you name it, pack it in your musubi!

The Details:
3" x 3" x 3"
Fully lined, 3" zipper closure
Due to the hand-printed and hand made nature of this product, print and color placement will vary from photograph.
Made in Hawai'i, USA
Puakenikeni. A popular flower that I've been hesitant to draw and make a print because I feel like it's been done a lot. But something about it is just so appealing! I lived in Kaimukī last year and on my runs I would pass by the trees and always stop to take photos of the blooms. And then an uncle started bringing Puakenikeni to keiki hula practice on Sunday mornings, and I would watch with happiness as he strung each one. So I caved, and I'm glad I did because Puakenikeni is already one of my favorites and I think it will be for many other people too.