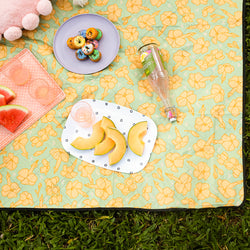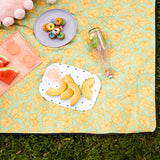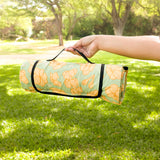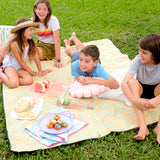 Izzy and Luke + Jana Lam
Picnic Blanket • Mint + Honey Puakenikeni • Izzy and Luke + Jana Lam
We've wanted to make kids swimwear for oh so long, but have just never been able to complete the puzzle. Lo and behold, Izzy and Luke was the missing piece! Together we l created our first ever Keiki swim collection! Cheers to the sun, the sea and the sound of little feet and laughter. 
The Details:
57" x 78"
Folds into 16" x 6" carrier with handle
Polyester taffeta top, cotton fill, waterproof oxford bottom
Machine Washable
$55
Designed in Hawai'i, USA

Puakenikeni. A popular flower that I've been hesitant to draw and make a print because I feel like it's been done a lot. But something about it is just so appealing! I lived in Kaimukī last year and on my runs I would pass by the trees and always stop to take photos of the blooms. And then an uncle started bringing Puakenikeni to keiki hula practice on Sunday mornings, and I would watch with happiness as he strung each one. So I caved, and I'm glad I did because Puakenikeni is already one of my favorites and I think it will be for many other people too.