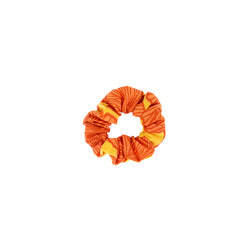 Jana Lam
Scrunchie • Seaflower • Vintage Sunset
Not eligible for Rainbow Week discounts.
Oh oh oh oh oh we've got the right stuff…baby
There's no shame in the game and we're happy to be hip to a trend, even if some of us haven't worn one since 1990 when NKOTB was hot and so were hammer pants. Scrunchies are back, and in a big way! We are loving these colorful cuties that the super dope Steph Kaji created out of our handprinted cotton. Waste not want not though, and the early bird gets the worm...our scrunchies are made from our leftover printed fabric, so when we're out of the right size scraps, we are out of scrunchies as well, and won't make more until the scraps re-pile up. Stack a couple in your hair or a couple on your arm- you can't go wrong with these pops of color.
The Details:
100% cotton gauze
Made in Hawaii, USA
Monstera and Papaya Leaf Shadow. You can't go wrong with the layering of these two prints. The origin of this combination came probably in early 2017. It made a big splash as the first print to be used for the new slouchy crossbody style, but it really became a force to be reckoned with when it was used near the end of 2017 as the print for the lounge seating in two cabanas at the Four Seasons- the first real run at interior design for the Jana Lam team. Now it's one of the most prevalent designs in the catalog, and serves as one of the two prints for Jana Lam masks. It's a truly special print.
Fabric:
All Jana Lam Handmade in Hawaii textiles are silk-screened by hand on cotton fabrics with water-based inks. This piece is made from a 100% natural Cotton/Linen blend.
Care:
Machine wash gentle. Do not bleach. Iron as needed.