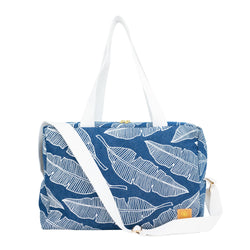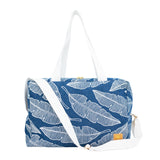 Jana Lam
Duffel • Banana Leaf • Denim Collection
The Jana Lam Duffel: your quintessential do everything piece; It's a roomy work tote, a work out bag, and of course the perfect travel accoutrement for all your fantastic adventures. It was created by Steph Kaji, our master of all that is beautifully formed and super functional and it's a dream come true for your next dream come true destination. 
Details:
16.5" l x 11" h x 5.5" d
Shoulder Strap measures 12" from shoulder to top of bag. Adjustable cross body Strap measures 28" to 53" fully extended. Fully lined with a double interior pocket. Exterior pocket features a strong elastic pass through for luggage handle.

Made in Hawaii, USA
Banana Leaf. The Banana Leaf print is one of the most time honored prints in the Jana Lam Catalog. It is a symbol of love and aloha in her life. A proposal with a ring on a baby banana plant in San Francisco is what brought her back to Hawai'i, her home, and its endless summers. She drew the leaf, not only because she loves them, but because it represents a wonderful time in her life and the plant that brought so much joy to her and so many others. The babies of the original banana plant and its babies have spawned so many more banana plants that have been passed along amongst Jana's circle of friends. The banana leaf print is a beautiful reminder of all the good things, and it brings people together.