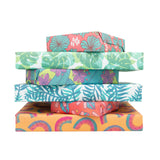 Wrappily + Jana Lam
Rainbows + Tiare Blossoms Eco Wrapping Paper • Wrappily + Jana Lam
Rainbows +Tiare Blossoms is a perfect mix-and-match pair of tropical rainbows mixed iwth graphic Tahitian gardenia flowers to make gift wrapping fun!
This collection of wrapping paper is the third collaboration of prints designed in the Jana Lam Studio for Maui based Wrappily. 
Reversible gift wrap sheets come flat and folded with complementary gift tag stickers. Sheet is 21.5" x 34". Printed in Washington State on recycled and recyclable newsprint.